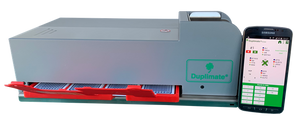 Duplimate VI Dealing Machine
NEW - Latest machine - uses phone or tablet - No need for a computer!

PLEASE TELEPHONE TO ORDER - 01296 397851

*£250.00 discount for affiliated clubs*
Free delivery 
*PLEASE NOTE*  This Machine uses our new type Duplimate Bar Coded cards only - please ask if you are unsure.
FOR COMPATIBLE CARDS FOR THIS MACHINE** PLEASE SEE OUR DUPLIMATE CARDS, THESE ARE AVAILABLE AS A BOX OF 100 DECKS OR AS SINGLE DECKS. 

Weight 6.0 kilos
See demonstration video below
The Duplimate is the professional heavy duty users' favourite. It is used at all European and World Championships. Barcodes on both cards and boards makes it possible for the Duplimate to cross-check the output. No mistakes! The Mk VI takes the duplication experience to the next level and leads the way into the next generation.
Some Highlights:
You can use your phone or tablet to run the machine. No need for a computer.
Multilingual user interface!
The machine sets up a network. You can alternatively connect via an existing network.
Swedish engineering, Dutch manufacturer, and the best components available ensure long life reliability.
In summary you get:
The latest technology with a generous 5 year warranty and a unique 12 months "no excuse" warranty. This means you can can claim a refund in the unlikely event that you would not be happy with your choice.
A nice and easy to use interface with all functions needed and more.
Foul proof duplication.
Automatic board no. recognition. (Two sets of board stickers 1-32 included with the machine)
Low cost of ownership.
Nice hand records with makeable contracts that can be printed straight from your phone, tablet or computer.
Sturdy carrying case included, making transport easy and safe.
Instant built-in help and 24/7 support.
WE ALSO SELL JANNERSTEN DUPLIMATE BOARDS IN 9 COLOURS! 
---
More from this collection